Emotion Regulation Strategies - the scientific benefits behind journaling
People with lower levels of anxiety show higher emotional control and resilience. Simply writing down feelings and concerns to gain control of emotions can lead to improve mental health and reduce anxiety. With The Kind Friend, Jamie wanted to combine mindfulness and creativity in one tool to develop self-awareness.
We are experiencing a global crisis, and feeling anxious or unproductive is normal in this context. Journaling helps reflecting on daily life, identify negative thoughts and better control them.
Plan out week by settings goals, tracking tasks, reflecting on your feelings and cultivating gratitude to develop practice of self-awareness.
Develop positive thinking: Express your emotions by writing in a journal. It creates a wonderful space for your negative emotions to pass.


Cultivate gratitude and empathy: Writing down what you're grateful for will help you cultivate gratitude and cherish what is really important to you.


Nurture critical thinking: Access different part of your brain by writing in a journal to help you find new solutions to problems you are facing.


Increase productivity: According to a recent working paper from Harvard Business School, employees experience 22.8% better performance by using a journal at work.


Better Sleep: Writing in a journal about what's on your mind and things you have to do in the next few days can help you fall asleep faster.


Higher I.Q.: Writing as part of learning has a positive correlation with intelligence.
The power of gratitude and how we can incorporate gratitude practice into our daily routine
By regularly keeping track of all of the things you are thankful, you will naturally feel more grateful, and start feeling happier. Studies show that if you express gratitude, it raises your happiness by 25%.
During crisis, it is easy to feel overwhelmed. Sometimes, all it takes is a small act like showing gratitude or sharing appreciation to put everything else into perspective. A gratitude journal will allow you to always refer back to positive thoughts and feel more positive emotions.
Gratitude and appreciation can be cultivated and utilised within organisations or teams to improve welfare - especially in a context of social distancing.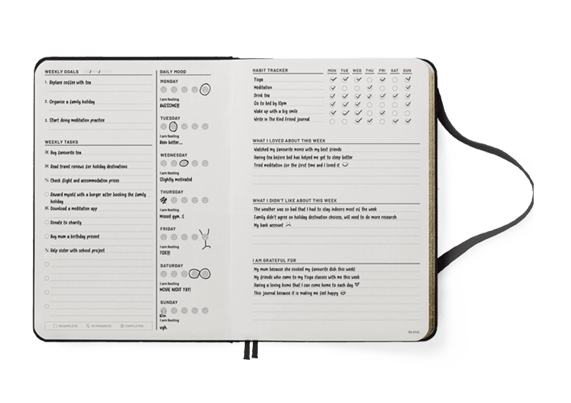 The Kind Friend journal includes 26 weekly templates with goal tracking, task tracking, daily mood tracking, habit tracking and a section for gratitude