About speaker: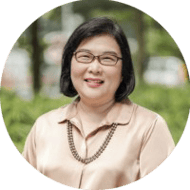 Praise Mok - Deputy Chief Executive, ROHEI Learning & Consulting

Praise has nearly 20 years' experience in the Learning and Development industry. As a founding member of ROHEI Learning & Consulting, Praise pioneered ROHEI's experiential learning formats that were compelling and challenging for the learners. These learning experiences are immersive on both virtual and face-to-face platforms and have resulted in major shifts in heartset and mindset—learning that is caught, not taught.
Praise consults with SMEs, MNCs, and key government organisations and IHLs to navigate change, and equip leaders with the relational skills and people-sensitivity. As an industry thought leader, Praise speaks and moderates on notable platforms, and also contributes to Framework Development for Training and Adult Education sector by SkillsFuture Singapore.